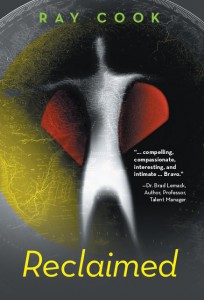 Everyone should be so lucky—an idyllic upbringing in bucolic Idaho, a loving family, a close-knit community … but what if your authentic self challenges life as you know it and your place in it?
To stay as a pariah and risk exile or to flee as a refugee without identity … that is the question. Reclaimed is a quest of personal reconciliation of a double life, a blend of dichotomous mishaps and redemptive insights.
Resist the folly of conformity, empower yourself, dare to be you! Reclaimed offers hope that life is manageable and happiness is a choice!
"Ray Cook has an innate ability to tell his story with a wonderful artistry that keeps the reader connected, engaged, and fascinated in the revealing chapters of his colorful journey … and the lessons he has learned …"
—Dr. Brad Lemack, author, professor, talent manager
Read more
Order a copy now
See Review
See Author Video
See Book Trailer